Who We Are, What We Do, & Why You Want Your Carpets...
PROFESSIONALLY STEAM CLEANED
Background
My name is Gerry Young, and I am the owner of Gerry's Carpet Steamers, a truck mounted carpet cleaning business, located in Berlin, NH.  Our truck is fully stocked with specialized carpet sanitizing equipment, and we're fully versed in all the latest sanitizing technologies.  .
I work with my 2 very respectful,  home schooled teenage boys 16 and 13, who act as support to do whatever is necessary.
I am certified by the Institute of Inspection Cleaning and Restoration (IICRC).
We continually train and update our skill sets, focusing on the latest technologies, as well as customer service skills.
We're fully insured for both residential and commercial services.
We're local residents of Berlin, NH, a family of 7. Our clients are our neighbors.
We don't just clean, but "Sanitize"
We love pets, and specialize in accidents, stains, odors, and allergies.
All our work is GUARANTEED, and YOUR SATISFACTION is GUARANTEED!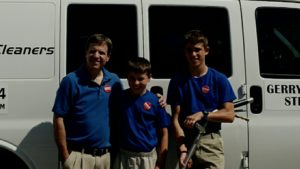 About Us (According to the Berlin Daily Sun)
Recently our story and business has been featured in the Berlin Daily Sun, Thursday,  August 24th, 2017. You can read all about us here: Berlin Daily Sun Article, August 28th, 2017.
Originally, the Daily Sun asked me to write something for them.  What I wrote is basically in praise of the city of Berlin, but unfortunately, i wrote it in the 3rd person and the Sun was unable to use it.
Here's what I wrote:  (I hope you agree)
"I wonder if the broadway songwriter and lyricist had this wonderful city of Berlin in mind, when he penned the famous song, "God Bless America"?  Can anyone recall the composer's name?  Actually, it was Irving Berlin, and to me, the "Berlin" is no coincidence.  
My family of seven, and I are transplants from Long Island, New York.  We purchased a fixer-upper, and moved up to Berlin in 2014, with no real plan, a few dollars, and a dream.  It's the best move we ever made.  Berlin is awesome, and the whole family is thriving.  Our fixer-upper is 3,000 square at feet, which is quite a step up from our 900 square foot Long Island home, and we finally have room for our large family.  
As far as quality of life, everything you could want is right here in Berlin, or just minutes away.  The views, foliage, and colors,  are amazing.  We love the easy access to endless, yet to be explored, trails, lakes, parks, mountains, and wilderness.  You never run out of things to do up here, in any season.  We've also met the most fantastic people up here, and have already made life-long friends.  One can still feel a sense of community up here in the North Country.  Sadly, that no longer exists on Long Island.  
So yes, we love it here, and we thrive here, but one question remains, "How do we stay here?  Isn't money always the issue?  I'm coming up on my 3rd year working as an Educational Assistant at Hillside Elementary School, but with a family and 5 children, I need a little more income in order to truly thrive. When we moved here, I wasn't too much worried, as I'm very creative, and a hard worker.  I'd come up with something.  I bided my time, threw myself into my job at Hillside Elementary School (Hooray for Mrs King, who gave me the opportunity), and awaited my creative mind for a solution.  
One day, last year, we were expecting overnight guests and getting the house ready.  Despite my best efforts, I just couldn't find a local carpet cleaner to address a couple of rather worn carpets.  It was really frustrating.  And that's when the creative spark hit me.  Soon after, I was gathering equipment, training, taking classes, becoming certified, and my free time was taken up learning everything about the cleaning business - sanitizing, oriental rugs, types of carpets, remediating pets stains & odors, anything I could learn to add to my skills, and prepare me for my venture.  It took what seemed like forever, but I am finally ready.  I'm ready not only to just clean, but to sanitize, which to me is a step beyond ordinary cleaning.  
Most of all I am ready to serve the people of the North Country with all my skills, all my training, all my energy, and everything I've got.  I stand ready to do so because it seems to me that Berlin has given me and my family, everything we have up here, and we are every so grateful, and really want to stay.   I'm committed to staying here in Berlin, and I'm also committed to giving the best and most comprehensive hands on carpet cleaning service that I can possibly give, and I hope that in doing so, we can continue to thrive up here in "God's country."  Thanks to everyone for the warm welcome.  
So glad the folks over at The Berlin Sun are happy with my work.  You can view the work, start to finish on my youtube channel.  Check out the youtube link at my website,  SanitizeMyCarpets.com"
Benefits of Having Your Carpets & Upholstery Steam Cleaned
I recently created a page to exclusively explain and highlight the benefits of steam cleaning, and why it is simply the best choice for the consumer. Read all about it here
Benefits of Steam
, and get the facts.